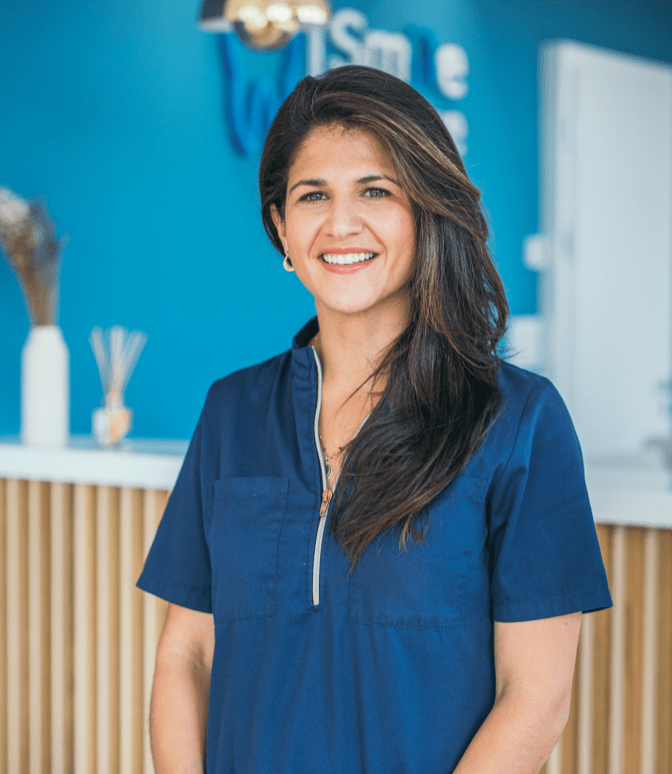 Dr Rinaldi Roxana
Dr. Roxana Rinaldi embodies excellence in prosthetic and conservative dentistry. As founder of Smile Clinique, she brings vast experience and unwavering dedication to the art of rehabilitating smiles.
A dentistry graduate since 2012, Dr. Rinaldi acquired her expertise at renowned dental practices in Belgium and Geneva, where she perfected her techniques and built her expertise. Her passion for her profession led her to search for the ideal location to establish her own "Smile Clinique". Having fallen under the spell of the Nyon region, she opened her clinic here in May 2022.
A true specialist in smile rehabilitation, Dr. Rinaldi is commiSed to improving the well-being of her patients. She is particularly skilled in the field of aesthetic dentistry and excels in the design and placement of dental crowns and veneers. Her ability to combine aesthetics and functionality makes Dr. Roxana Rinaldi a preferred choice for those seeking to regain confidence in their smile.
Outside her practice, Dr. Rinaldi is an active person who enjoys exploring the natural beauty of the region. Whether strolling the hiking trails or paddling along the lake shore, she takes every moment to recharge her baSeries and maintain a healthy balance between her professional and personal life.
What's more, Dr. Rinaldi's linguistic versatility is an invaluable asset to our clinic. In addition to her mastery of French, she is fluent in English, Spanish and Persian, enabling the Smile Clinique to welcome a diverse and international clientele.
To stay connected and keep her patients informed of the latest advances in cosmetic dentistry and oral care, Dr. Rinaldi is also active on social networks. You can follow her on Instagram at @smilecliniquedentaire, where she shares useful tips, patient testimonials and updates on the clinic's services.