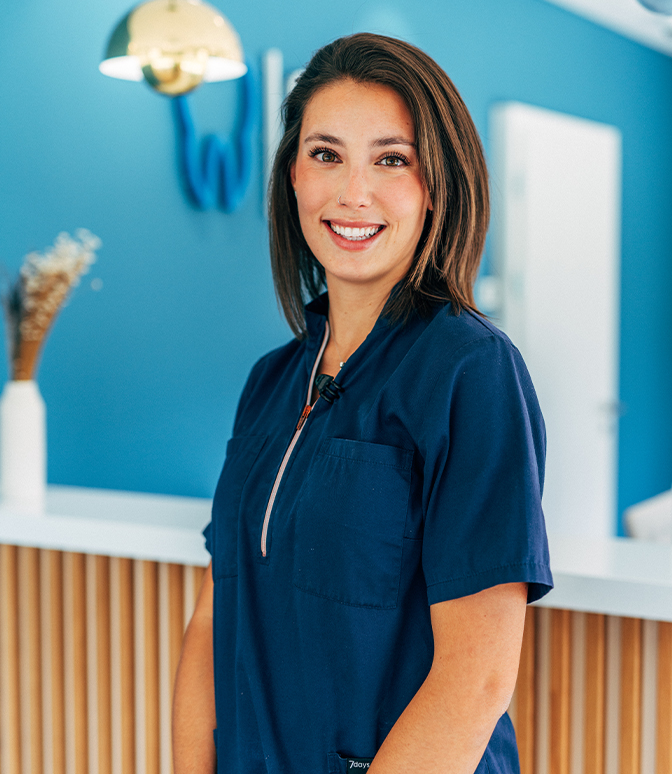 Asia
We are delighted to introduce you to Asia, your dental hygienist in Nyon at the Smile Clinique. As an expert in dental hygiene, Asia embodies Smile Clinique's commitment to preventive dentistry.
Asia began her career after completing her studies in Italy. Her quest for excellence led her to work as a dental hygienist for a renowned group in Switzerland before joining Smile Clinique in September 2022. Her training and experience have led her to develop particular expertise in the treatment of gum disease, particularly gingivitis and periodontitis.
As well as her undeniable professionalism, Asia also embodies human warmth. She strives to create a welcoming atmosphere within the Smile Clinique, where every patient feels at home. Asia is committed to providing you with the highest quality dental care, while taking the time to answer all your questions and advise you on the best preventive dental practices.
Outside of work, Asia is first and foremost a nature lover. After her day's work, you'll often find her wandering the picturesque forest paths of Nyon, accompanied by her faithful four-legged companion, Asgard. When the first snowflakes fall, Asia turns her attention to exploring the regional peaks on cross-country skis, combining her passion for nature with her love of adventure. On bad weather days, she devotes herself to her second passion, cooking, preparing delicious and healthy dishes for her friends.
Asia's linguistic versatility is a valuable asset to our clinic. As well as her mother tongue Italian, she is fluent in French and English, enabling her to care for an international patient base, offering a quality service to all our patients, whatever their origin.
If you are looking for a dental hygienist in Nyon who is dedicated to preventive dentistry, quality scaling and a friendly approach, Asia at Smile Clinique is your ideal choice. We're sure you'll appreciate the warm welcome you'll receive from Asia for your dental treatment, in an environment where your well-being and your smile are our top priority.